ECG Module Digital Patient Monitor
Model: OEM 07

Instruction
²Compact size (100X80X25mm), easy installation, high reliability and accuracy
²Excellent reliablity and clinical monitoring performance
²Applicable to adult, pediatric and neonatal patients
²Powered by single 5V, low power consumption
²Module testing includeing 7 parameter ECG, 1 parameter RESP, 2 parameter temp
²Design compliances with CE standard
²Pulse rate, temp value testing accords with IEC60601 standard
²Enable all the values displayed in the evaluation software on personal computer
²Parameters: Pulse rate, Temperature
Specification
Pulse Rate:
Signal Input Range : ±20uV~±10mV
Polarization Voltage: ±350mV;
CMRR
Diagnostic Mode : > 90dB
Monitoring or operation Mode: >110dB

Filter Domain (Frequency Response):
Diagnostic Mode : 0.05~100Hz
Monitoring Mode: 0.5~40Hz
Operation Mode: 1~20Hz
Gain Select:
4 Types: ×250,×500,×1000,×2000
Accuracy : 5%

Rate-Aided Singal:
Range: 1mV(peak to peak value);
Accuracy: 3%;

Pulse Rate Range: 20-250bpm
Accuracy 1%±2bpm

Breath:
Testing Range: 1~100bpm
Background impedance range: <4KΩ
Accuracy: 2%±2bpm

Temp:
Testing Range : 0~50 degree;
Precision circuit : 0.1 degree;
Working Environment:
Working temperature: 0~45 degree
Storage temperature: -20 ~ 70 degree
Woring and storage humidity: 10 ~ 95 %, non-condensing
Operation altitude: -500 M ~ 4600 M
Lifetime: 10 years
Compaliance with:
IEC60601-1(GB.9706);
IEC60601-2-27;
AAMI EC13-1992
EN12470-4;
EN30993;
Sketch Map

If sample or small volume, welcome to check our aliexpress or ebay website for more special discount!
aliexpress store: http://www.aliexpress.com/store/329014
eBay store name: Berry Medical, or seller name: shberry2009


1. We will ship the item within 48 hours after receiving your payment, kindly leave us your shipping address and contact number, both are very important, thank you!
2. Shipping (valuable/heavy items) to worldwide by UPS/DHL/FedEx (5-10 days)
If you have any special requirement, please feel free to contact our staff immediately, or leave the note in Paypal after your payment, we will provide you the satisfy shipping.
3. We will send you the tracking number after shipment, you also can ask us for the tracking service.
4. If you haven't receive items in 3 weeks, please contact us immediately.

1. We accept payment by Paypal, MoneyGram, Westwen Union and bank transfers.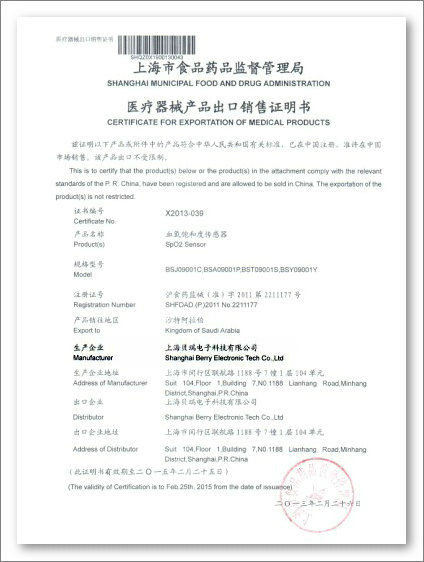 Shanghai Berry Electronic Tech Co., Ltd is located in Shanghai, China, Shanghai Berry Electronic Tech Co.,Ltd since 2003. We sell Spo2 sensor,oximeter, leadwires,ECG Cable,NIBP Cuff,IBP Cable,Nasal Cleaner, etc. We all very much to meet all your needs.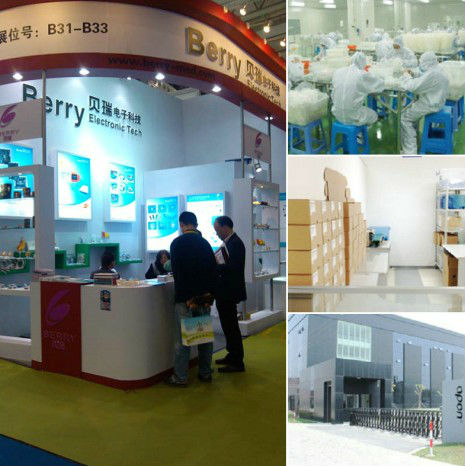 We are the authorized manufacturer of medical devices since 2003. Also is the supplier of big hospitals in China,we main products are:ECG/EKG cable,OEM module,spo2 sensor, different types of pulse oximeter, infusion PCA pump, nasal cleaner , etc.
We are looking forward to establish the partnership with you!
Please feel free to contact us:
www.berry-med.com
www.spo2.cn
24 Hours Hotline: +86-021-5853 1958(CN)
Company Name: Shanghai Berry Electronic Tech.,Ltd
Company Address: Suit C, 1 Floor, 7th Building, No.1188 Lianhang Road, Minhang District, Shanghai, China